Left your heart in Manchester?
The contest is now over and we've picked the winner – click here for more.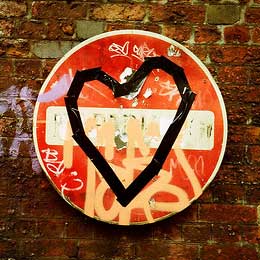 Rainy City Stories wants your love. We also want your love stories and poems. In honour of Valentine's Day, we're offering a wonderful prize for the best Rainy City Love Story we receive in the next month.
Whether you're an old romantic or a cynic, we invite you to tell us your tales (real or imagined) of falling in, out, or over love in our city. But don't restrict yourselves to traditional romances; we're willing to interpret "love story" in a wider sense. The winning submission could be about a more abstract kind of love. It could even be an anti-love poem, or a rant against all things loved-up.
The winning piece of writing will be published on our website on the eve of Valentine's Day amid a shower of cupids and lace bows and twinkly-eyed kittens. And the winner will receive a big fat £50 Borders gift voucher (the kind of thing that really makes us writer-types swoon), kindly donated by our friends at the Manchester Literature Festival.
Here's the lowdown: Entries must be submitted by close of business on Tuesday, February 10. They must be based at a specific place (e.g. a building, street or area – if more than one please tell us the primary location) in Manchester. Please submit short stories or poems through the mechanism on our website, and put the words "love contest entrant" at the top of the story. Entrants should only submit their own original work, and writing that has not previously been published. Also, by entering the competition you grant RCS the right to publish the piece online.
Rainy City Stories employs the latest open-source technology to publish new writing set in the city of Manchester. It uses a Google map of the city to organise stories linked to particular places.
Photo by Greg Chabrol (flickr.com/people/gregous)